Deprecated
: Function eregi() is deprecated in
/home2/kingdom/public_html/wrestlersunion.ca/functions/stdFunctions.php
on line
386
Deprecated
: Function eregi() is deprecated in
/home2/kingdom/public_html/wrestlersunion.ca/functions/stdFunctions.php
on line
386
Deprecated
: Function eregi() is deprecated in
/home2/kingdom/public_html/wrestlersunion.ca/functions/stdFunctions.php
on line
386
Deprecated
: Function eregi() is deprecated in
/home2/kingdom/public_html/wrestlersunion.ca/functions/stdFunctions.php
on line
386
Deprecated
: Function eregi() is deprecated in
/home2/kingdom/public_html/wrestlersunion.ca/functions/stdFunctions.php
on line
386
Deprecated
: Function eregi() is deprecated in
/home2/kingdom/public_html/wrestlersunion.ca/functions/stdFunctions.php
on line
386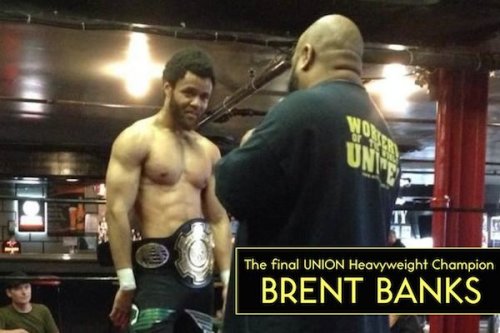 The Union of Independent Professional Wrestlers presented its final ever event, THE LAST WALTZ, on Sunday September 14th 2014 at the Rockpile East Nightclub in Scarborough, Ontario, Canada.
1) Anthony Kingdom James pinned Logan Savage.
2) Ashley Sixx defeated Psycho Mike Rollins to win the 2014 King of Toronto in a gauntlet match that included Carter Mason, Seleziya Sparx, Rip Impact and Steve Brown.
3) Jon Atlas pinned RJ City. City's agent Mysterion was forced to wear a straightjacket during the match.
4) Alex Vega pinned Buck Gunderson to win the Northern Lights Cruiserweight title.
5) Checkmate defeated The Southern Vultures to keep the Union Tag Team titles.
6) Brent Banks defeated Ethan Page, Josh Alexander and Michael Elgin to win a four-way dance and become the final everUnion Heavyweight Champion.
Reported attendance is 93,174. (One more than Wrestlemania III. Vince lied. Why can't we?)
Thank you and good night!


* * * * *
Copyright 2001-2018 UNION of Independent Professsional Wrestlers
www.wrestlersunion.ca