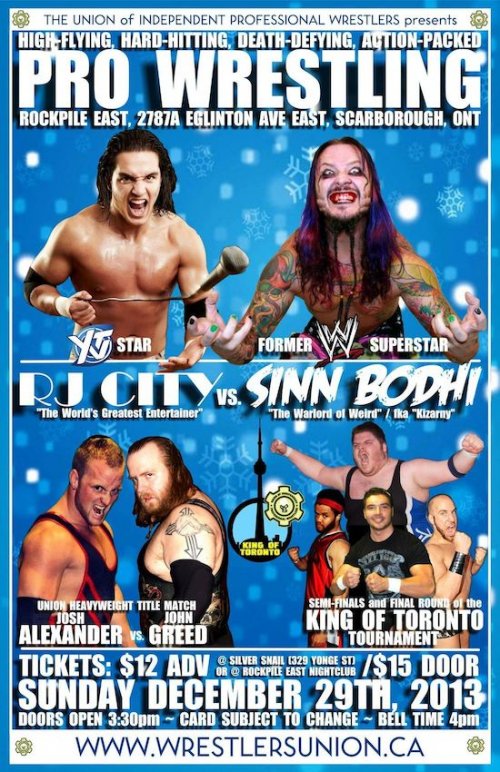 BUY YOUR ADVANCE TICKETS NOW!!!
UNION Heavyweight Title Match
"Walking Weapon" JOSH ALEXANDER vs "Dirty South" JOHN GREED

~ UNION Tag Team Title Match ~
CHECKMATE vs CARTER MASON and SCOTTY TURNER

~ Northern Lights Unified Cruiserweight Title Match ~
ALEX VEGA vs 3 MYSTERY OPPONENTS in a gauntlet match

~ KING OF TORONTO Tournament Semi-Finals and Final ~
A Block - ETHAN PAGE vs SEBASTIAN SUAVE
B Block - STEVE BROWN vs BRENT BANKS
A Block winner vs B Block winner

~ Special Feature Attraction ~
"Kizarny" SINN BODHI vs "The World's Greatest Entertainer" RJ CITY
~ ~ ~ ~ ~
Check out the results from Rise Of The Monsters in the NEWS section.

Check the EVENTS page for more info...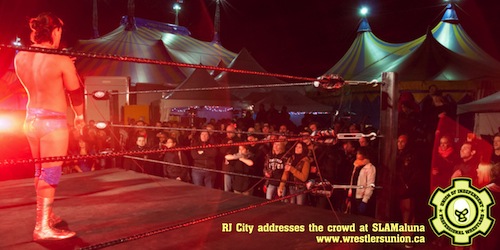 The Wrestlers Union is available to bring its high-flying, hard-hitting, death-defying brand of professional wrestling to your town or event. Contact the Union today and make your next party, fundraiser or community event a memorable occasion!
* * * * * * *
Be sure to visit our sponsors:
Copyright 2001-2013 UNION of Independent Professsional Wrestlers
www.wrestlersunion.ca