Deprecated
: Function eregi() is deprecated in
/home2/kingdom/public_html/wrestlersunion.ca/functions/stdFunctions.php
on line
386
Deprecated
: Function eregi() is deprecated in
/home2/kingdom/public_html/wrestlersunion.ca/functions/stdFunctions.php
on line
386
Deprecated
: Function eregi() is deprecated in
/home2/kingdom/public_html/wrestlersunion.ca/functions/stdFunctions.php
on line
386
Deprecated
: Function eregi() is deprecated in
/home2/kingdom/public_html/wrestlersunion.ca/functions/stdFunctions.php
on line
386
Deprecated
: Function eregi() is deprecated in
/home2/kingdom/public_html/wrestlersunion.ca/functions/stdFunctions.php
on line
386
Deprecated
: Function eregi() is deprecated in
/home2/kingdom/public_html/wrestlersunion.ca/functions/stdFunctions.php
on line
386



The UNION returns in 2012 for WRESTLESTOCK
January 7, 2012

The Union of Independent Professional Wrestlers makes its exciting return to Toronto this spring for WrestleStock: the indy wrestling event of the year. WrestleStock will take place on Saturday April 14th at Royal Canadian Legion Hall #10 (1083 Pape Avenue at O'Connor) in Toronto. Doors open at 7:00pm and the action gets underway at 7:30pm sharp. Tickets for this event go on sale very soon. Stay tuned to www.WrestlersUnion.ca for ticket information.
WrestleStock will be the climax of a full year of filming for a brand new documentary focusing on the trials and tribulations of the indy wrestling scene. The event itself will bring together wrestlers from almost a dozen different independent promotions for one spectacular event. Championships from no fewer than six organizations, including the Union Heavyweight, Cruiserweight and Tag Team titles, will be defended. And now, the first match to be made official...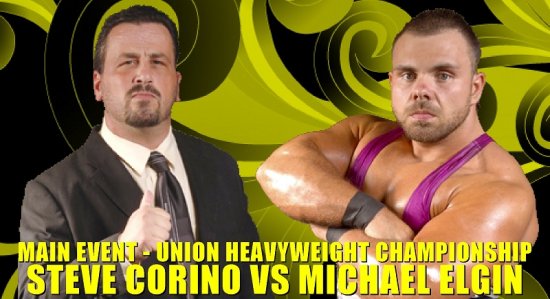 In the main event of the evening, Union Heavyweight Champion STEVE CORINO will defend his title against Toronto's own homegrown Ring Of Honor superstar, "Unbreakable" MICHAEL ELGIN. Corino, an 18 year veteran, has been around the world and back again with a lengthy list of accomplishments including being a former ECW and NWA World champion. Elgin is quickly becoming a breakout star in ROH with his amazing combination of technical wrestling ability and Herculean power. How will the "King of Old School" handle this challenge from one of the pound-for-pound strongest men in professional wrestling today? Join us at WrestleStock to find out!
Over the next few days and weeks, WrestlersUnion.ca will be announcing more wrestlers and more matches for WrestleStock. You can also "Like" us on Facebook and follow us on Twitter Check in often to keep up to date on everything that will make this the most exciting wrestling event in Toronto in 2012.
Copyright 2001-2018 UNION of Independent Professsional Wrestlers
www.wrestlersunion.ca