Deprecated
: Function eregi() is deprecated in
/home2/kingdom/public_html/wrestlersunion.ca/functions/stdFunctions.php
on line
386
Deprecated
: Function eregi() is deprecated in
/home2/kingdom/public_html/wrestlersunion.ca/functions/stdFunctions.php
on line
386
Deprecated
: Function eregi() is deprecated in
/home2/kingdom/public_html/wrestlersunion.ca/functions/stdFunctions.php
on line
386
Deprecated
: Function eregi() is deprecated in
/home2/kingdom/public_html/wrestlersunion.ca/functions/stdFunctions.php
on line
386
Deprecated
: Function eregi() is deprecated in
/home2/kingdom/public_html/wrestlersunion.ca/functions/stdFunctions.php
on line
386
Deprecated
: Function eregi() is deprecated in
/home2/kingdom/public_html/wrestlersunion.ca/functions/stdFunctions.php
on line
386



A personal score gets settled at WrestleStock
January 26, 2012
A grudge match that no one on the Ontario indy wrestling scene could have predicted has been signed for WrestleStock on Saturday April 14th in Toronto. RJ City and Rico Montana are no strangers to one another. In fact, they've been close friends for a while now. They both have acting careers. (RJ stars as "Gildar" on the popular YTV show "Splatalot", Rico has acted in Mexican telenovelas for years and they both co-starred in the recent horror-comedy film "Monster Brawl".) They're both accomplished professional wrestlers. They spend time together away from the ring. But as the old saying goes "familiarity breeds contempt".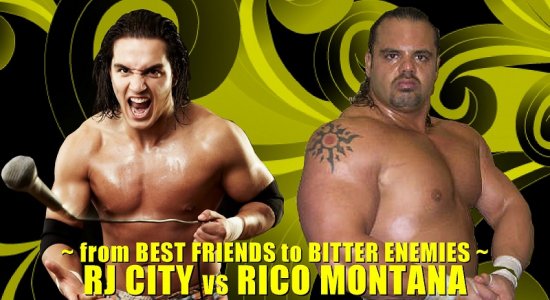 Maybe the duo have spent TOO much time together. Maybe there have been TOO many discussions about the do's and don'ts of show business. Maybe there's been TOO many friendly arguments about professional wrestling. When the Union first contacted each man individually about participating in WrestleStock, they both demanded that the other man be their opponent!
"Rico's been around the business for a while now. He's been a lot of places and accomplished a lot in the ring... and he's never too shy to remind me about it," said RJ City on the subject. "I'd like to go just ONE stinking day without getting a boring lecture full of Rico's wisdom. Does he not know who I am? I'm the "Midnight Special" RJ City. I should've earned his respect a dozen times over by now."
Rico, without ever hearing RJ's comments, had this to say about their friendship: "Look, I try to help this kid but it's frustrating. Everything's a joke to RJ. Wrestling's a joke. The fans are a joke. My advice is a joke. He thinks because he's a clown on a kiddie show that he's the next world champion. I just want the boy to see sense... even if I have to beat that sense into him."
The Union of Independent Professional Wrestlers presents WrestleStock on Saturday April 14th 2012 at the Todmorden branch of the Royal Canadian Legion (1083 Pape Avenue @ O'Connor) in Toronto. Bell time is 7:30pm sharp.
Copyright 2001-2017 UNION of Independent Professsional Wrestlers
www.wrestlersunion.ca