Deprecated
: Function eregi() is deprecated in
/home2/kingdom/public_html/wrestlersunion.ca/functions/stdFunctions.php
on line
386
Deprecated
: Function eregi() is deprecated in
/home2/kingdom/public_html/wrestlersunion.ca/functions/stdFunctions.php
on line
386
Deprecated
: Function eregi() is deprecated in
/home2/kingdom/public_html/wrestlersunion.ca/functions/stdFunctions.php
on line
386
Deprecated
: Function eregi() is deprecated in
/home2/kingdom/public_html/wrestlersunion.ca/functions/stdFunctions.php
on line
386
Deprecated
: Function eregi() is deprecated in
/home2/kingdom/public_html/wrestlersunion.ca/functions/stdFunctions.php
on line
386
Deprecated
: Function eregi() is deprecated in
/home2/kingdom/public_html/wrestlersunion.ca/functions/stdFunctions.php
on line
386



Alpha-1 title to be defended at WrestleStock
February 2, 2012
The Union of Independent Professional Wrestlers is pleased to announce that it has, just today, entered into an agreement with Alpha-1 Wrestling to have A-1's top prize, the Alpha Male Championship, defended at UIPW's WrestleStock on Saturday April 14th when Josh Alexander takes on "Psycho" Mike Rollins. As part of the deal between the two groups, The Union has agreed to recognize the winner of this match as the new #1 contender to the Union Heavyweight Championship.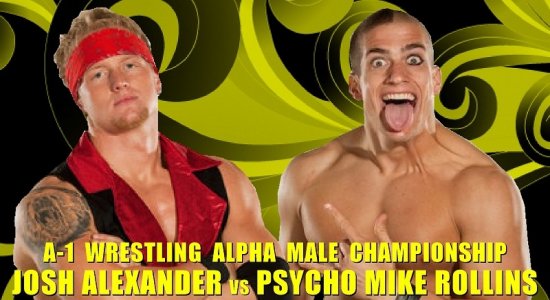 The current Alpha Male champion is Josh Alexander. Known to fans as "The Ronin", Josh has been blazing a path of destruction that stretches far and wide across Ontario and down into the United States. Fans of the OWIE.ca website recently voted Alexander the Western Ontario Wrestler of the Year for 2011 and gave his August 2011 Alpha Male title defence the nod as Western Ontario Match of the Year.
"Psycho" Mike Rollins has been turning up the heat on his opponents with his high-powered offence and unpredictable behaviour. Rollins' recent trip to California to participate in movie producer Jeff Katz' Wrestling Revolution Project has only added to his in-ring arsenal. He hopes to add to his trophy case as well by dethroning The Ronin.
Wrestling fans can expect what one wrestling legend would call "a slobberknocker": an all-out, no limits, hard-hitting slugfest between these two young kings of the ring.
The Union of Independent Professional Wrestlers presentsWrestleStock on Saturday April 14th 2012 at the Todmorden Branch of the Royal Canadian Legion (1083 Pape Avenue @ O'Connor) in Toronto. Bell time is 7:30 sharp.
Copyright 2001-2017 UNION of Independent Professsional Wrestlers
www.wrestlersunion.ca