Deprecated
: Function eregi() is deprecated in
/home2/kingdom/public_html/wrestlersunion.ca/functions/stdFunctions.php
on line
386
Deprecated
: Function eregi() is deprecated in
/home2/kingdom/public_html/wrestlersunion.ca/functions/stdFunctions.php
on line
386
Deprecated
: Function eregi() is deprecated in
/home2/kingdom/public_html/wrestlersunion.ca/functions/stdFunctions.php
on line
386
Deprecated
: Function eregi() is deprecated in
/home2/kingdom/public_html/wrestlersunion.ca/functions/stdFunctions.php
on line
386
Deprecated
: Function eregi() is deprecated in
/home2/kingdom/public_html/wrestlersunion.ca/functions/stdFunctions.php
on line
386
Deprecated
: Function eregi() is deprecated in
/home2/kingdom/public_html/wrestlersunion.ca/functions/stdFunctions.php
on line
386



UNION Alumni: Sebastian Dark
February 6, 2012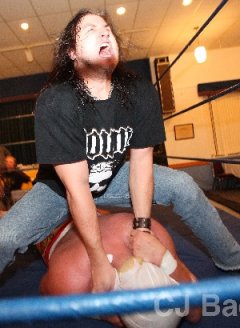 By the time The UNION formed in Erie, PA in 2003, Sebastian Dark was already a grizzled veteran of the East Coast and Midwest US indy circuits. Many people mistook Sebastian's propensity for turning his matches into hardcore slugfests for the be-all and end-all of his in-ring arsenal. Sebastian proved those people wrong right away by conquering the field of an eight-man tournament to become the first-ever UNION Heavyweight champion. Sebastian later proved that he was "The Man Who Can't Be Killed" when he successfully defended his title in an ultra-bloody match against Shirley Doe. Doe and Dark were then attacked by the UNION Tag Team champions, the Devil's Advocates. The bitter enemies formed an impromptu team and defeated the champs to win those titles. Dark, therefore, became the first and only man in UNION history to hold two of the promotion's championships simultaneously.
When the UNION reformed in Toronto in 2007, Sebastian returned, this time forming a new stable, Blood Death Sex Magik, with Sterling James Keenan. Dark capped off that run by viciously attacking Steve Corino only minutes after the former ECW champ had won the UNION Heavyweight title (see picture) setting up a titanic clash that, due to circumstance, would never happen.
Sebastian Dark has since retired from the world of professional wrestling. The former champ has joined the law enforcement community and now works as a police officer in Eastern Pennsylvania. So be warned... If you were planning to commit a crime anywhere between Harrisburg and Philadelphia, you should reconsider. Sebastian Dark has a gun and a badge.
Copyright 2001-2017 UNION of Independent Professsional Wrestlers
www.wrestlersunion.ca