Deprecated
: Function eregi() is deprecated in
/home2/kingdom/public_html/wrestlersunion.ca/functions/stdFunctions.php
on line
386
Deprecated
: Function eregi() is deprecated in
/home2/kingdom/public_html/wrestlersunion.ca/functions/stdFunctions.php
on line
386
Deprecated
: Function eregi() is deprecated in
/home2/kingdom/public_html/wrestlersunion.ca/functions/stdFunctions.php
on line
386
Deprecated
: Function eregi() is deprecated in
/home2/kingdom/public_html/wrestlersunion.ca/functions/stdFunctions.php
on line
386
Deprecated
: Function eregi() is deprecated in
/home2/kingdom/public_html/wrestlersunion.ca/functions/stdFunctions.php
on line
386
Deprecated
: Function eregi() is deprecated in
/home2/kingdom/public_html/wrestlersunion.ca/functions/stdFunctions.php
on line
386



Fighting females set to square off at WrestleStock
February 9, 2012
Beauty, brains and brawn are set to collide as The Union of Independent Professional Wrestlers is pleased to announce yet another exciting match has been added to the already stellar line-up for WrestleStock. Highly touted newcomer Seleziya Sparx will battle skilled veteran Cherry Bomb in this clash of two of Ontario's best female wrestlers.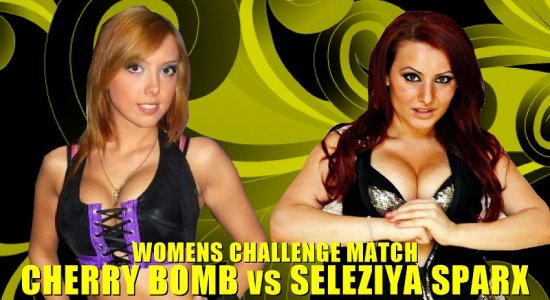 Sparx, who recently won both the 2011 Eastern and Western Ontario Female Rookie of the Year honours from the OWIE.ca website, has quickly gained a reputation for being as mouthy as she is talented. Meanwhile, Cherry Bomb has become a popular and respected fan favourite traveling beyond Ontario's border to compete for such groups as Shimmer and Women Superstars Uncensored in the United States and touring Japan in late-2010.
The Union of Independent Professional Wrestlers presents WrestleStock on Saturday April 14th 2012 at the Todmorden Branch of the Royal Canadian Legion (1083 Pape Avenue @ O'Connor) in Toronto. Bell time is 7:30 sharp.
Copyright 2001-2017 UNION of Independent Professsional Wrestlers
www.wrestlersunion.ca