Deprecated
: Function eregi() is deprecated in
/home2/kingdom/public_html/wrestlersunion.ca/functions/stdFunctions.php
on line
386
Deprecated
: Function eregi() is deprecated in
/home2/kingdom/public_html/wrestlersunion.ca/functions/stdFunctions.php
on line
386
Deprecated
: Function eregi() is deprecated in
/home2/kingdom/public_html/wrestlersunion.ca/functions/stdFunctions.php
on line
386
Deprecated
: Function eregi() is deprecated in
/home2/kingdom/public_html/wrestlersunion.ca/functions/stdFunctions.php
on line
386
Deprecated
: Function eregi() is deprecated in
/home2/kingdom/public_html/wrestlersunion.ca/functions/stdFunctions.php
on line
386
Deprecated
: Function eregi() is deprecated in
/home2/kingdom/public_html/wrestlersunion.ca/functions/stdFunctions.php
on line
386



UNION Tag Titles up for grabs at WrestleStock
February 16, 2012
The seventh and final match has been made official for UIPW's incredible WrestleStock event on Saturday April 14th in Toronto. The match will crown brand new UNION Tag Team champions and it took some rather serious negotiations to get it done. It's not that the two teams couldn't agree to the match but rather the two members of one of the teams had to agree to reunite.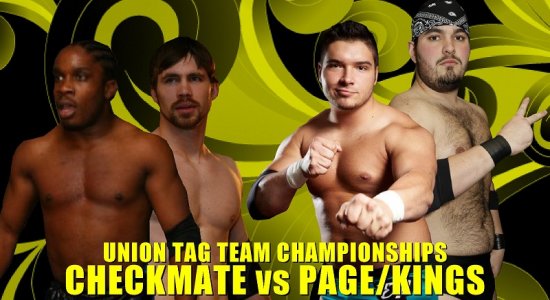 Once know as "The Entourage", the tag team of Ethan Page and Joey Kings ran roughshod over the Canadian and Northeast US indy wrestling scenes, led by their business agent/manager, Mr. Melo. But an injury that sidelined Kings for almost a year gave Page the chance to spread his wings as a solo wrestler. Add to that a public falling out between Page and Melo and the Entourage dissolved.
Mr. Melo contacted the UNION the day that WrestleStock was announced, begging and pleading for the opportunity to get his team booked in whatever tag match the promotion planned to add to the April event. Melo then had to do even more begging just to get Page and Kings to consider the idea of reforming their team. Lists of demands flew back and forth until a compromise was finally reached (that included Page receiving "top billing" on the team). Mr Melo is just happy to have his boys back together with a shot at championship gold.
Of course, wearing championship gold is a familiar feeling for the team of Christopher Bishop and Lionel Knight. Known collectively as Checkmate, Bishop and Knight are the current Alpha-1 Wrestling Tag Team champions. Both men also have a storied history in the currently defunct UWA Hardcore promotion. Bishop is a former UWA Light Heavyweight champion and won the group's 2005 Grand Prix and 2007 King of the Death Match tournaments. Knight capped off UWA's final show back in 2008 by winning both the Heavyweight and Light Heavyweight belts to add to his 2008 Grand Prix title.
Two fantastic young tag teams on a collision course at this huge indy wrestling summit with the vacant UIPW Tag Team titles up for grabs. Get your tickets today!
The Union of Independent Professional Wrestlers in association with the Silver Snail Comic Shop presents WrestleStock on Saturday April 14th 2012 at the Todmorden branch of the Royal Canadian Legion (1083 Pape Avenue @ O'Connor) in Toronto. Bell time is 7:30pm sharp. Tickets are available currently available at the Silver Snail (367 Queen Street West in downtown Toronto) and via secure PayPal transaction here on www.WrestleStock.com
Copyright 2001-2017 UNION of Independent Professsional Wrestlers
www.wrestlersunion.ca