Deprecated
: Function eregi() is deprecated in
/home2/kingdom/public_html/wrestlersunion.ca/functions/stdFunctions.php
on line
386
Deprecated
: Function eregi() is deprecated in
/home2/kingdom/public_html/wrestlersunion.ca/functions/stdFunctions.php
on line
386
Deprecated
: Function eregi() is deprecated in
/home2/kingdom/public_html/wrestlersunion.ca/functions/stdFunctions.php
on line
386
Deprecated
: Function eregi() is deprecated in
/home2/kingdom/public_html/wrestlersunion.ca/functions/stdFunctions.php
on line
386
Deprecated
: Function eregi() is deprecated in
/home2/kingdom/public_html/wrestlersunion.ca/functions/stdFunctions.php
on line
386
Deprecated
: Function eregi() is deprecated in
/home2/kingdom/public_html/wrestlersunion.ca/functions/stdFunctions.php
on line
386



UNION Alumni: Zema Ion aka Shiima Zion
March 12, 2012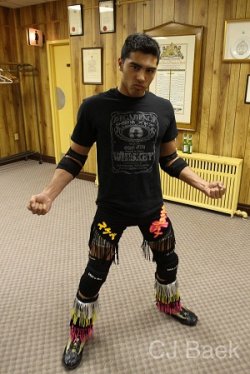 Impact Wrestling's newest rising star is well on his way towards capturing his first X Division title and he's no stranger to the Union either. Back in 2007, Shiima Xion (now known as Zema Ion) made a pair of appearances for UIPW including winning a four corners cruiserweight scramble match that included soon-to-be ECW superstar Colin Delaney.
Shiima was trained for a career in pro wrestling by three other former Union Workers: Super Hentai, former Union Tag champ Glenn Spectre and former Union Tag champ Shirley Doe. Xion began competing regularly for the International Wrestling Cartel, as well as making appearances in Chikara, Far North Wrestling, and Pro Wrestling Unplugged. He eventually took his glam rock act overseas with trip to Japan and south of the border with regular tours of Mexico.
In the summer of 2011, Shiima became Zema, when the egotistical one made his very first appearance in TNA. This Sunday he challenges Austin Aries for the TNA X title and everyone here at the UNION wishes him the best of luck. We look forward to seeing him in a UNION ring again sometime soon!
Copyright 2001-2018 UNION of Independent Professsional Wrestlers
www.wrestlersunion.ca