Deprecated
: Function eregi() is deprecated in
/home2/kingdom/public_html/wrestlersunion.ca/functions/stdFunctions.php
on line
386
Deprecated
: Function eregi() is deprecated in
/home2/kingdom/public_html/wrestlersunion.ca/functions/stdFunctions.php
on line
386
Deprecated
: Function eregi() is deprecated in
/home2/kingdom/public_html/wrestlersunion.ca/functions/stdFunctions.php
on line
386
Deprecated
: Function eregi() is deprecated in
/home2/kingdom/public_html/wrestlersunion.ca/functions/stdFunctions.php
on line
386
Deprecated
: Function eregi() is deprecated in
/home2/kingdom/public_html/wrestlersunion.ca/functions/stdFunctions.php
on line
386
Deprecated
: Function eregi() is deprecated in
/home2/kingdom/public_html/wrestlersunion.ca/functions/stdFunctions.php
on line
386



Final Pre-WrestleStock Update!!!
April 12, 2012
This Saturday
, April 14th,
The Union of Independent Professional Wrestlers
, in association with Morpheous Productions and the Silver Snail Comic Shops, presents its most important event of the year:
WRESTLESTOCK
. The show will be held at Royal Canadian Legion Hall No.10 (1083 Pape Avenue @ O'Connor) in Toronto. Doors open at 7:00pm. Bell time is 7:30pm. Tickets are just $20 and are available at the Silver Snail (367 Queen Street West) and $tretch Thrift Store (974 Pape Avenue) or here online at
www.WrestleStock.com
. Tickets will also be available at the door on the night of the show.
In the evening's huge main event match, former ECW World champion STEVE CORINO defends his UIPW Heavyweight Championship against current Ring of Honor superstar "Unbreakable" MICHAEL ELGIN. Can the wily veteran outwit and outwrestle the monstrously strong up-and-comer? Join us at WrestleStock to find out!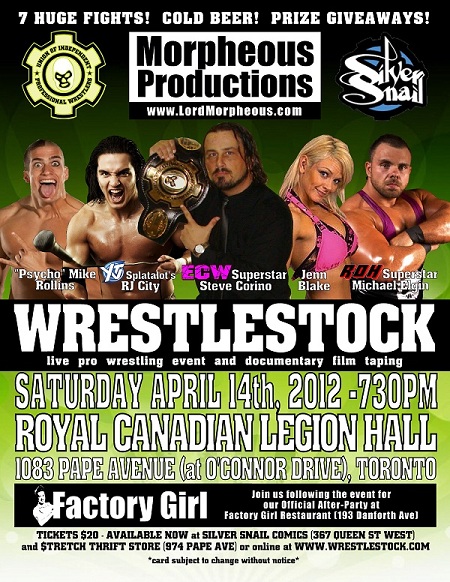 * * * * *
Also on the card, THE ENTOURAGE (Ethan Page and Joey Kings with manager Mr. Melo) take on CHECKMATE (Lionel Knight and Christopher Bishop) for the vacant UIPW Tag Team titles. A brand-new championship (The Northern Lights Cruiserweight Title) will be created when UIPW Cruiserweight champ HORNET, PWA Internet champion SHAWN LaFLEUR and World-1 Under-30 champion COLBY CORINO unify their belts in an ultra-fast-paced triple threat match.
Plus, Alpha-1 Wrestling champion JOSH ALEXANDER defends against PSYCHO MIKE ROLLINS, "Girl Dynamite" JENNIFER BLAKE fights MAWMI TSUNAMI in exciting women's action and appearances by "The World's Greatest Entertainer" RJ CITY, "Your Savior" SEBASTIAN SUAVE and "The High Risk Hero" RIP IMPACT. All this plus prize giveaways, cold beer at the bar (bring your ID), and much more. And join us following the event for the official WrestleStock After-Party at Factory Girl Restaurant and Bar (193 Danforth Avenue).
WrestleStock will bring together the finest in professional wrestling talent from a dozen different regional promotions from across Ontario and beyond for the hardest-hitting, highest-flying, most exciting sports entertainment event of the year. WrestleStock will also be the culmination of a full year of filming for an all-new documentary on the independent wrestling scene. Don't miss out on this history-making night of professional wrestling fun and excitement.
* * * * *
TRAVEL ALERT FOR THIS WEEKEND! The Don Valley Parkway will be closed for the entire weekend so please plan ahead for alternate routes. For those using GPS or online map websites, the Legion Hall is located at 1083 Pape Ave, one street south of O'Connor and just a few lights north of Danforth Avenue. For transit users, the TTC has several bus routes that will let you off next to Legion Hall including the 25 Don Mills and 81 Thorncliffe Park from Pape subway station or the 8 Broadview and 100 Flemingdon Park from Broadview subway station.
Copyright 2001-2017 UNION of Independent Professsional Wrestlers
www.wrestlersunion.ca