Deprecated
: Function eregi() is deprecated in
/home2/kingdom/public_html/wrestlersunion.ca/functions/stdFunctions.php
on line
386
Deprecated
: Function eregi() is deprecated in
/home2/kingdom/public_html/wrestlersunion.ca/functions/stdFunctions.php
on line
386
Deprecated
: Function eregi() is deprecated in
/home2/kingdom/public_html/wrestlersunion.ca/functions/stdFunctions.php
on line
386
Deprecated
: Function eregi() is deprecated in
/home2/kingdom/public_html/wrestlersunion.ca/functions/stdFunctions.php
on line
386
Deprecated
: Function eregi() is deprecated in
/home2/kingdom/public_html/wrestlersunion.ca/functions/stdFunctions.php
on line
386
Deprecated
: Function eregi() is deprecated in
/home2/kingdom/public_html/wrestlersunion.ca/functions/stdFunctions.php
on line
386



Results from the April 14th WrestleStock event!
April 15, 2012
The Union of Independent Professional Wrestlers in association with Morpheous Productions and the Silver Snail Comic Shop presented WrestleStock on Saturday April 14th 2012. 100 Union Supporters experienced the hard-hitting, high-flying, no holds barred excitement of the Wrestlers Union's biggest show of the year. Below are the quick results from all the evening's action:
- Ashley Sixx b Brent B
- Rip Impact b Sebastian Suave
- Jennifer Blake b Mawmi Tsunami
- RJ City b Scotty O'Shea in the "World's Greatest Entertainer Challenge"
- Josh Alexander b Psycho Mike Rollins to retain the A-1 Heavyweight title and become No.1 contender to the UIPW title.
- Shawn "Ice" LaFleur b Colby Corino and Alex Vega to unify three belts and become the new Northern Lights Cruiserweight Champion
-
Ethan Page and Joey Kings
b
Lionel Kinght and Christopher Bishop
for the vacant UIPW Tag Titles
-
Steve Corino
b
Michael Elgin
to retain the UIPW Heavyweight title.

- Josh Alexander came out and demanded he get his UIPW title shot immediately. With Page and Kings holding Corino`s son Colby hostage,
Josh Alexander
b
Steve Corino
to become the new UIPW Heavyweight champion.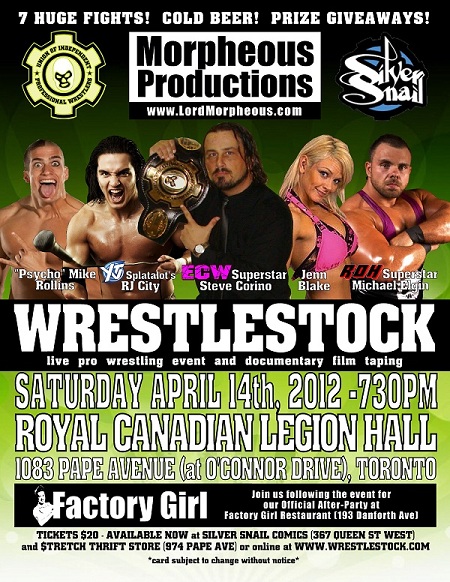 Copyright 2001-2017 UNION of Independent Professsional Wrestlers
www.wrestlersunion.ca