Deprecated
: Function eregi() is deprecated in
/home2/kingdom/public_html/wrestlersunion.ca/functions/stdFunctions.php
on line
386
Deprecated
: Function eregi() is deprecated in
/home2/kingdom/public_html/wrestlersunion.ca/functions/stdFunctions.php
on line
386
Deprecated
: Function eregi() is deprecated in
/home2/kingdom/public_html/wrestlersunion.ca/functions/stdFunctions.php
on line
386
Deprecated
: Function eregi() is deprecated in
/home2/kingdom/public_html/wrestlersunion.ca/functions/stdFunctions.php
on line
386
Deprecated
: Function eregi() is deprecated in
/home2/kingdom/public_html/wrestlersunion.ca/functions/stdFunctions.php
on line
386
Deprecated
: Function eregi() is deprecated in
/home2/kingdom/public_html/wrestlersunion.ca/functions/stdFunctions.php
on line
386



Main event announced for July 7th
June 4, 2012
Hot on the heels of the successful WRESTLESTOCK event, the Union of Independent Professional Wrestlers returns to Royal Canadian Legion Hall No.10 (1083 Pape Avenue in Toronto) on Saturday night July 7th for REIGN OF TERROR. Tickets are $20 each and go on sale today at the Silver Snail Comic Shop (367 Queen St West) and $tretch Thrift Store (974 Pape Ave) as well as at the Legion Hall and online at our website: www.WrestlersUnion.ca.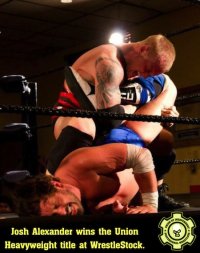 In the main event of the evening, newly crowned Union Heavyweight champion JOSH ALEXANDER will make his very first title defense against former Union Heavyweight champion JOHN McCHESNEY! After defeating STEVE CORINO for the title in an impromptu match at WRESTLESTOCK, Alexander went to Union Boss ANTHONY KINGDOM JAMES and demanded that McChesney be his next opponent. "Being the Union champion isn't enough for 'The Ronin'. I plan to prove I'm the greatest wrestler to ever hold this title. So what better way to start the ball rolling than by destroying one of the Union's most iconic figures: John McChesney".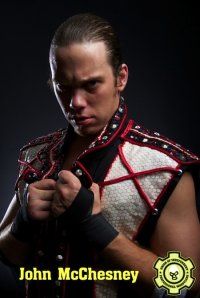 McChesney, a native of Erie, Pennsylvania, has been part of the Union roster since the very first shows were held in his hometown almost a decade ago. A former Union Heavyweight and Cruiserweight champion, the man they call "Big League" isn't shying away from the new champion's challenge. "I know Josh Alexander. He's a great young talent who is going to go far in the wrestling business... but he's got a bad attitude and a big mouth? Let's just say I'm eager to get back in a Union ring so I can regain my title and teach Josh a very valuable lesson about not biting off more than you can chew."
Sparks will fly in our main event in this battle of youth vs experience, power vs speed and new champion vs former champion. You won't want to miss a minute of the action as John McChesney tries to dethrone Josh Alexander and end his "REIGN OF TERROR"!
In addition to this huge main event match-up, Ring of Honor superstar MICHAEL ELGIN returns to action as he faces "The Iron Lion", SEBASTIAN SUAVE. Elgin is determined to make his way back into the No.1 Contender's spot and get another shot at the Union title. Suave has watched Elgin's rise to international stardom over the last couple of years and knows what a win over "The Unbreakable One" could do to launch his own career.
Plus, both the Union Tag Team and the Northern Lights Unified Cruiserweight championships will be defended. Stay tuned to your favorite wrestling news source over the next few days as we announce these matches plus much, much more for "REIGN OF TERROR".
* * * * * * *
Controversial cruiserweight wrestler ASHLEY SIXX isn't done stirring up trouble. At WRESTLESTOCK, The Wrestlers Union unified its Cruiserweight championship with the PWA Internet title and the World-1 Under-30 title to create the brand new Northern Lights Cruiserweight championship. Sixx complained loudly that he deserved to be in the match but his pleas were rejected by Union Boss Anthony Kingdom James.
Sixx, who kicked off the event with a decisive submission victory over highly-touted young star Brent Banks, returned to the ring at the start of the unification match to disrupt the proceedings. The start of the match was delayed as Sixx grabbed the microphone, insulted the wrestlers in the ring and told both Kingdom and the crowd that he WOULD be the Northern Lights champion. Kingdom and members of the Union's security staff had to literally chase Sixx through the crowd, as Ash clambered over the fans, before they could grab him and physically eject him from the Legion Hall.
Ash has apparently issued what Kingdom called a "half-hearted apology" for causing the ruckus and will be given another Union match. Can Ashley Sixx keep it together long enough to EARN a shot at the NLC title? Or will his crazed ego get the better of him again? Join us at REIGN OF TERROR on July 7th 2012 to find out.
* * * * * * *

Copyright 2001-2017 UNION of Independent Professsional Wrestlers
www.wrestlersunion.ca