Deprecated
: Function eregi() is deprecated in
/home2/kingdom/public_html/wrestlersunion.ca/functions/stdFunctions.php
on line
386
Deprecated
: Function eregi() is deprecated in
/home2/kingdom/public_html/wrestlersunion.ca/functions/stdFunctions.php
on line
386
Deprecated
: Function eregi() is deprecated in
/home2/kingdom/public_html/wrestlersunion.ca/functions/stdFunctions.php
on line
386
Deprecated
: Function eregi() is deprecated in
/home2/kingdom/public_html/wrestlersunion.ca/functions/stdFunctions.php
on line
386
Deprecated
: Function eregi() is deprecated in
/home2/kingdom/public_html/wrestlersunion.ca/functions/stdFunctions.php
on line
386
Deprecated
: Function eregi() is deprecated in
/home2/kingdom/public_html/wrestlersunion.ca/functions/stdFunctions.php
on line
386



November 3rd Witness THE RISE OF THE MONSTERS!!!
September 15, 2013
The Union of Independent Professional Wrestlers RETURNS to action on Sunday November 3rd at our brand new venue THE ROCKPILE EAST (2787A Eglinton Ave East in Scarborough) for "RISE OF THE MONSTERS". Doors open at 2pm. Bell time is 2:30. Tickets are $12 in advance and $15 at the door.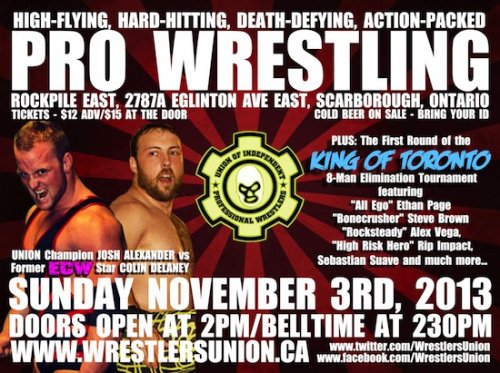 In the main event, UNION Champion JOSH ALEXANDER defends his title against former ECW superstar COLIN DELANEY. Alexander has been carving a path of destruction through the indy wrestling circuit ever since he won the UNION Championship at last year's WrestleStock event. He plans to add a main event victory over the "Extremely Cute Wrestler" to his growing list of accomplishments. For his part, Delaney is in the best shape of his career, working hard to re-establish his championship credentials and claw his way back to the top of the wrestling scene.
This event will also feature the opening round of the first-ever "KING OF TORONTO" tournament. The winner of this 8-man tournament will receive a shot at the UNION Championship in the main event at the upcoming WRESTLESTOCK extravaganza! Signed to participate in the tournament:
"All Ego" ETHAN PAGE
"Bonecrusher" STEVE BROWN
Northern Lights Unified Cruiserweight Champion ALEX VEGA
"High Risk Hero" RIP IMPACT
"Iron Lion" SEBASTIAN SUAVE
"Big Bad" BRENT BANKS
"Union Boss" ANTHONY KINGDOM JAMES
"Retro" REX ATKINS
First round match-ups for the tournament and additional matches for the event will be announced in the coming weeks. Get your tickets early and join us on November 3rd to witness the RISE OF THE MONSTERS.

* * * * *
PURCHASE YOUR "RISE OF THE MONSTERS" TICKETS NOW!
Copyright 2001-2017 UNION of Independent Professsional Wrestlers
www.wrestlersunion.ca